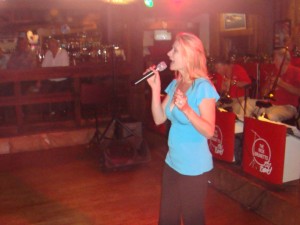 Hi Everyone!
Went to the 94th tonight. It was such a good time. I got to dance! Tonight was especially fun because Rick asked me if I wanted to sing again. I'm not used to the arrangements so I make mistakes. But overall I think I did well. Tonight I sang "Paper Moon", "Pennies From Heaven" and "L-O-V-E". I wasn't expecting to get to sing at all so what a thrill.
Tonight they also had Angelo Babbaro singing, who does Sinatra. He was very good and very nice. He is performing tomorrow night at Villa Milano for a benefit for the Son's of Italy.
I passed out my business card and people seemed to enjoy my singing, several people remembered me from my audition night. I'm meeting so many nice people and I'm having fun.
Nicole